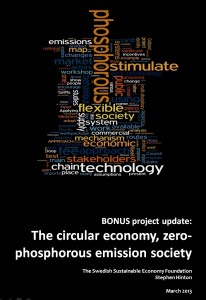 Taking the Island of Gotland as a Sweden in miniature, and starting from recent studies that inventoried relevant Eco-technology commercially available, as well as studies on flexible fee mechanisms, the project will, using a multi-disciplinary approach,  develop and test the feasibility of putting tariffs and dividends in place to stimulate the entire supply chain, including residents in general,  to invest in technology and adapt behavior to recycle phosphorous, thus breaking dependence on imports and stemming the pollution of the Baltic.
Initial work will produce a technical road-map showing routes to complete independence and zero emissions.  The map will show where commercially available and for Gotland suitable technology is available. To the map will be added possible upstream tariff points at municipal level and national level as well as potential dividend sharing routes.
The project will explore possibilities  – using the flexible fee approach – to (a) place tariffs on import of phosphorous/entry into the supply chain/waste stream, (b) return revenue to society to stimulate eco-technology and (c) further explore how to stimulate the market and  engage citizens and other supply chain actors by connecting changes in tariff to emission reduction rates.
Based on a series of pilot studies, the research will show ways to engage society using tariff prices connected to emissions and how to stimulate existing technology into mass use.
the key theme that the proposal addresses is
Eco‐technological approaches to achieve good ecological status in the Baltic Sea
 Innovative measurements techniques
User‐driven ICT services