PRESS RELEASE
Stockholm 2017 05 17
FOR IMMEDIATE RELEASE
The latest White Paper from the Swedish Sustainable Economy Foundation proposes that, borrowing concepts from engineering and utilizing the power of modern IT systems, the economy can be stabilized to ensure jobs and prosperity for all whilst transitioning to a completely clean, green economy.
The work builds on a framework of basic conditions of sustainability developed by The Natural Step.
Says Foundation Board member Anders Höglund,
" The Natural Step offers one of the most scientifically stringent frameworks for sustainability. Using this framework  instruments developed by the Foundation provide economic incentives for producers to offer consumers products in a way that does not produce pollution and indeed fulfills the demands of the circular economy".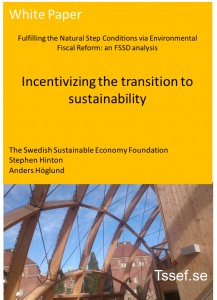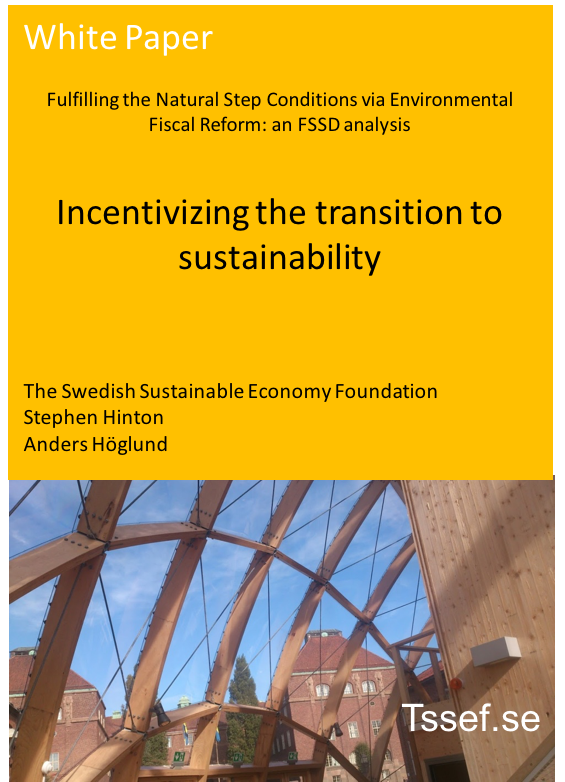 Most would say that the desire to make money is counter-sustainable. At the same time, people recognize that economic stimulus can make people – and in corollary, machines – change behavior.
The instruments developed by the Foundation rely on feedback loops, with flexible pollutant fees and dividends to consumers to balance supply and demand as restrictions on pollutants increase.
After several years' work,The Swedish Sustainable Foundation is proud to release this white paper explaining how to create, via economic policy, a framework with will incentive consumers and producers towards sustainability.
The instruments are designed to ensure that the economy fulfills the basic requirements of providing jobs and prosperity, but in a sustainable way.
Download the report here.FSSD align report R3IA
For more information
The Swedish Sustainable Economy Foundation tssef.se
TSSEF Contact person: Stephen Hinton (Board Member) +46730311625
The Swedish Sustainable Economy Foundation, established in 1995, develops and promotes systemic approaches and solutions to the challenge of developing society in a sustainable way. The Mission of the Foundation is to promote the development of the preconditions of sustainability -clean air and water – through the application of financial instruments at national level and the spread of macroeconomic systemic solutions. The Foundation takes a non-political, holistic approach to promoting these solutions through research and development, education, spread of information and various cooperation projects, including humanitarian initiatives.
Stiftelsen Hållbart Samhälle
info@tssef.se
Web: https://tssef.se