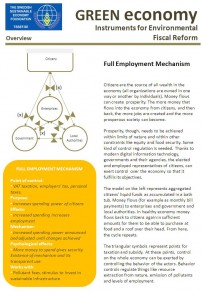 Citizens are the source of all wealth in the economy (all organizations are owned in one way or another by individuals). Money flows can create prosperity. The more money that flows into the economy from citizens, and then back, the more jobs are created and the more prosperous society can become.
Prosperity, though, needs to be achieved within limits of nature and within other constraints like equity and food security. Some kind of control regulation is needed. Thanks to modern digital information technology, governments and their agencies, the elected and employed representatives of citizens, can exert control over the economy so that it fulfils its objectives.
This paper presents the instruments that can be applied to drive full employment. It describes how the mechanism works, and how to apply it.