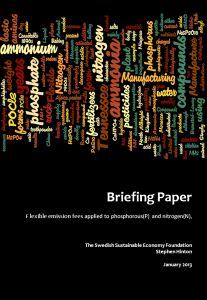 Inorganic phosphorus in the form of the phosphate PO3−4  is required for all known forms of life, playing a major role in biological molecules such as DNA and RNA where it forms part of the structural framework of these molecules. For humans it is essential in food and  Sweden imports some 730,000 tons of fertilizer a year, up to one third of it containing phosphorous. At the same time, much of it ends up in the Baltic seas causing algal blooming and other problems.  Some sources give our current system – reliance on phosphorous rocked mined in Morocco – as only having 35 years left,
Although nitrogen is not mined, it is extracted from the air in industrial processes to produce chemical fertilizer, the same issues exist with the massive import into the country and the resulting 120,000 tons  of emissions into the Baltic.
Both elements are in the top four the biggest challenges to humanity as exceeding or being close to exceeding planetary boundaries.
In this latest briefing paper, the TSSEF explains how changing the regulatory system can both restrict the amount of dependency on imported fertilizers and encourage new, green business to work with recycling and thereby radically reduce  the burden on the environment whilst stimulating organic food production.
Download the report here Brief_PhosphorousRC2