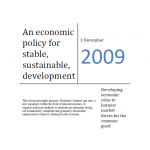 This discussion paper presents Höglund's Interest rate rule: a new paradigm within the field of macroeconomics. It suggests practical methods to maintain an optimally strong, environmentally compliant and genuinely sustainable, employment-conducive demand in the economy.
The paper contains a simplified description of a method to stabilize real estate markets and financial systems, to prevent recessions and depressions and to create a fair and genuinely sustainable development and growth.

The method includes the utilization of a (budget-neutral) economic reward system securing a sufficiently strong and sustainable demand in the economy. The basic principle of the method is that the rules in the economic system should be designed to make private interest coincide with common interest and private good with common good.
To download the paper as pdf, click the image of the cover.